Absolut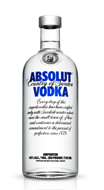 The "original" ink-to-glass story:
Absolut was a vodka first brewed by the Swede Lars Olssen Smith in 1879. Good for Sweden, bad for your brain cells (think low-rent vodka), and low quality by nearly all standards of today's premium vodkas. This is a marketing story.
In the early 1970's ad man Gunnar Broman found inspiration in an elegant and simple pharmacological bottle that had a distinctive shape. Swedish designers perfected the bottle shape and, in a moment of genius, decided to print ink directly onto the bottle and not adhere a label in order to elevate the brand.
In 1979, Absolut went on sale in the U.S. with a single distributor and now has become one of the most valued brands in the U.S.
One of the original marketing folks credits the direct-to-bottle printing as being a key element of success from being a low quality vodka (under $2 a half pint) to being a the current success (more than $20 per bottle).
It's amazing what printing on bottles can add to your bottom line.